Allegro (PL), [CPS], Fashion, Clothes, Shoes, Accessories and additions, Accessories, Jewelry, Presents, Health and Beauty, Cosmetics, House and Garden, For children, Furniture, Household items, Animals, Home decoration, Garden, Building, Appliances and Electronics, Hardware, Telephones and accessories, Audio and video, Household goods, Sport & Hobby, Sell, shop, gift, coronavirus, corona, virus, keto, diet, weight, fitness, face mask
Offer Details:

Offer Name:
Allegro (PL), [CPS], Fashion, Clothes, Shoes, Accessories and additions, Accessories, Jewelry, Presents, Health and Beauty, Cosmetics, House and Garden, For children, Furniture, Household items, Animals, Home decoration, Garden, Building, Appliances and Electronics, Hardware, Telephones and accessories, Audio and video, Household goods, Sport & Hobby, Sell, shop, gift, coronavirus, corona, virus, keto, diet, weight, fitness, face mask
Payout:
0.80% / cps
Preview:
Preview Landing Page
Categories:
Fashion / Clothes / Shoes
Network:
MyLead
Last Updated:
Apr 21, 2021
Countries:

PL
Run Offer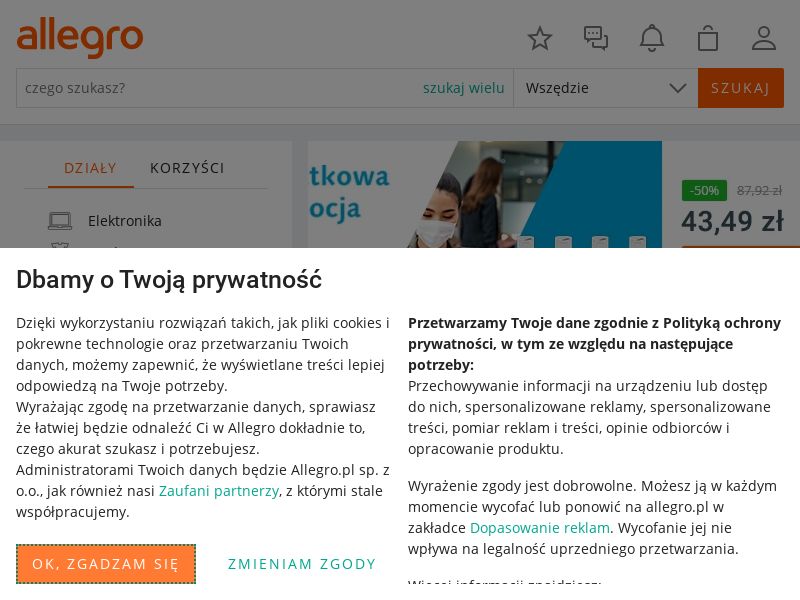 Initially meant to be an auction site for hobbyists, Allegro has become the largest Polish retail platform at the moment. It came into existence in 1999 as a bidding website but later expanded its operations and morphed into an e-commerce giant. In fact, it's currently among the 10 largest online retail websites, welcoming well over 190 million visitors every month. Here's your chance to join in on the company's success by signing up for the Allegro Affiliate Program. Reap amazing rewards and hefty commission rates with the ever-expanding Allegro Affiliate Network!
The starting point when looking for a source is always a single transaction.
Each transaction must have a source.
The transaction should have only one source.
The model is based on time and the category of visit and purchase. This means that we do not only consider the visit in which the transaction took place, but we are looking for a source compliant with the purchase category (at level 2 in the Allegro category tree structure) within 24 hours of the transaction.
Attribution is subject to individual offers that go to the basket - we do not make the whole shopping carts, we only consider purchases of individual offers separately. Within one basket each offer can be assigned a different source of transactions. Transactions are counted when you click the "buy and pay" button in the transaction process, regardless of whether the purchase is made by the basket or in the "buy now" option and regardless of whether the payment has been made in advance or in arrears.